If it's your first time getting a massage, *Swedish massage is the perfect place to start.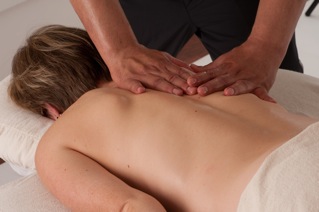 During Swedish massage, our massage therapists use warm organic oils to facilitate smooth, gliding strokes which soothe and calm the mind and body.
Swedish massage uses firm but gentle pressure to promote relaxation, ease muscle tension, and create a sense of total well–being.
Generally during Swedish massage you're nude underneath a towel or sheet. The therapist uncovers only the part of the body he/she is working on; a technique called "draping".
You can keep your underwear on during Swedish massage, and many newcomers do.
Feel free to state your preference for pressure during Swedish massage. It can range from light to a bit firmer. Swedish massage usually includes some deeper work on areas of specific muscle tension. If you want more intensive work and firmer pressure, a deep tissue massage is recommended.
* Swedish massage was pioneered by a Swedish physiologist, Henri Peter Ling, at the University of Stockholm in 1812. It was introduced to the U.S. in 1858 as "The Swedish Movement Cure." Swedish massage is the foundation for other types of Western massage, including sports massage, deep tissue massage and aromatherapy massage.
If you feel you need the healing effects of deeper pressure, you may want to consider a Deep Tissue massage.
At Deep Tissue & Structural Healing your experience during a Swedish massage
will be uplifting, and the grace and style of your therapist will stand out.